For the first time in nearly a decade, Brooks Abenido, 9, watches uninterrupted water rushing out of their faucet from the kitchen sink inside their residence in Barangay Basdiot, Moalboal.
Brooks' mother, Jijie and grandmother, Marilou, shared in his delight. They said that the startled look and the babbling Brooks displayed after burbling water poured from the sink faucet are expressions of a new experience.
Brooks is obviously mesmerized by the flowing water spurting from the kitchen faucet. According to him, he has never seen the faucet function. Until recently.
"Karon pa man gud ni siya kasuway nga busagak gyud ang tubig namo," Jijie explained.
"Dugay na man na wala gamita nga gripo," Brooks exclaimed.
Marilou narrated that Brooks grew up watching them wait for water to stream out of the faucet at the yard in the wee hours of the morning.
He also ran errands to the refilling station where water is sold at a P100 to P400 for every thousand liters depending on the demand.
Brooks also saw how his mother fetch water from 500 meters away where a water line provides supply on a lengthier time compared to theirs.
"Gadako gyud ni si Brooks nga wala'y tubig. Kon duna man gani, kinahanglan mobangon ka'g alas dos sa kadlawon para ka makasalod," Marilou said.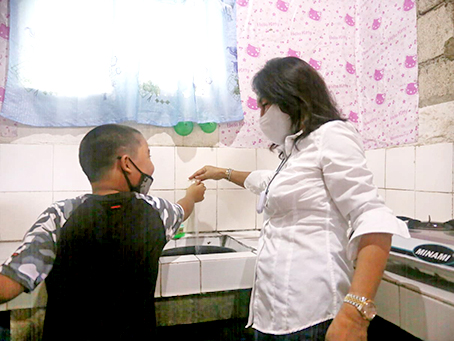 Brooks Abenido was happy to show the Governor that water now flows in their kitchen sink.
Prior to the inauguration of the P7.4-million Level III waterworks in the Moalboal last Saturday, February 6, Governor Gwendolyn Garcia visited the Abenido residence and learned of a 15-year-old pipeline where water used to flow rarely.
Brooks met the governor at the door and received a warm hug from her. Lucky he had his hair cut days before as if he anticipated someone as important as Gov. Gwen would come by their house.
He led her to the tiled kitchen sink where the governor herself turned on the faucet. The governor noticed of his innocent charm and his nice smell from a fresh bath.
"Humot kaayo, klaro nga bag-ong naka-shower," the governor quipped.
To which Brooks replied, "salamat kaayo Gov., nakasuway na gyud ko'g shower."
Gov. Garcia, in her 2019 campaign, vowed to provide Level III waterworks system to the municipality, one which will take water supply to each household 24/7.
That Saturday, the governor inaugurated the water system emphasizing the fulfillment of her promise.
"Kay ako mang gisaad, ako gyung tumanon. Karon nia ko alang sa pagtuman sa akong saad nga makabaton mo'g tubig nga anha gyud sa inyong tagsa-tagsa ka panimalay, 24 oras nga supply, nga moagas gyud sa inyong shower. Dili na mo magkabu-kabo inig ligo," she stated after a ribbon-cutting ceremony in Basdiot.
With her were Moalboal Mayor Paz "Lingling" Rozgoni, Moalboal Vice Mayor Inocentes "Titing" Cabaron, Sandiganbayan Justice Geraldine Econg, Provincial Board (PB) Members Christopher Baricuatro, Jerome Librando, and Jose Mari Salvador; Provincial Engineers Hector Jamora and Rey Mariñas, Dumanjug Mayor Efren Gica, Ronda Mayor Terence Blanco, San Fernando Mayor Lakambini Reluya, Moalboal Sangguniang Bayan members, Barangay Basdiot Chairman Cirilo Tapales and his Kagawads.
The inauguration was slated in line with Moalboal's 169th Founding Anniversary.
Certainly, more Brooks Abenido in Moalboal would experience such overjoy in the assured availability of uninterrupted water for 7,500 more households in nine barangays on the second phase of the improvement works.
"In the next six months, angay gyud ning humanon kay kamo, ang Basdiot, usa ka tourist destination. Mao man gani ni hinungdan nga giablihan nato ang turismo pagbalik," Garcia told the crowd.
Brooks' family is just one of 2,000 households to have benefitted initially from the first phase of the improvement works which project a total of 5,000 household-beneficiaries.
Waterwork projects in the Province is guaranteed in the Capitol's P15-billion budget for 2021, where the development fund takes up 55 percent or roughly P8.2 billion. The fund consists of infrastructure projects such as road concreting, bridges, waterworks system, and port development, and other undertakings that would allow faster delivery of goods and services.
Other towns and component cities experiencing water shortage can benefit from the creation of the Cebu Provincial Inter-Local Government Unit Waterworks System.
INTER-LGU WATERWORKS SYSTEM
The PB already ratified Resolution No. 2021-01 on creating the "Cebu Provincial Inter-LGU Waterworks System."
The approval of the resolution initializes an operational manual and the framework of the waterworks system. An office division under the Office of the Governor will be created that will eventually become a water services department once operations grow province-wide.
The PB's approval of the resolution on January 13 is seen as an answer to Cebu's growing demand for potable water.
The Municipality of Carmen is first to benefit from the resolution. Carmen provides water to Metro Cebu through its Cantumog-Luyang River yet faces a shortage of supply.
An important feature of this system is the use of smart water meters. The initiative to employ smart technology to be more efficient and professional in the delivery of basic services is another first for the Capitol.
Smart water meters use wireless technology so readings can be done remotely while ensuring accurate data.
These will provide immediate information on leaking and water wastage and eliminate manual readings and estimated bills. (Eleanor Valeros)