Juana Oflas couldn't help herself but cry when she received a wheelchair from the Cebu Provincial Government Wednesday, February 17.
The 58-year-old needed the wheelchair to move around after suffering a fracture in her right hip when she fell inside her house in Mancilang, Madridejos town.
"Nagpasalamat ako og dako kang Governor Gwen Garcia nga natagaan ako'g wheelchair," she said, overwhelmed with gratitude.
Deep in poverty, Juana's husband, Manuel, said that the wheelchair is a great help to them who couldn't afford to buy any assistive devices or book a surgery to fix his wife's injury.
"Tungod kay dili na makalakaw ang akong asawa, alsahon nako siya kun asa siya. Maong dako kaayo mi'g pasalamat sa wheelchair nga gihatag ni Governor Gwen. Dili man kami makaabot niining mga butang tungod sa among kalisod," he said.
Cheriben Tendido, 22, also a resident of Madridejos, expressed her gratitude to the governor for giving her a new pair of crutches. She was born with limb length discrepancy which makes it difficult for her to walk.
"Inborn ni akong disability. Mubo ang usa nako nga tiil. Nagpasalamat ko ni Governor Gwen nga gitagaan ko og bag-o nga crutches mailisdan na gyud ni akong karaan nga nihatag sa akong maestro sauna," she said.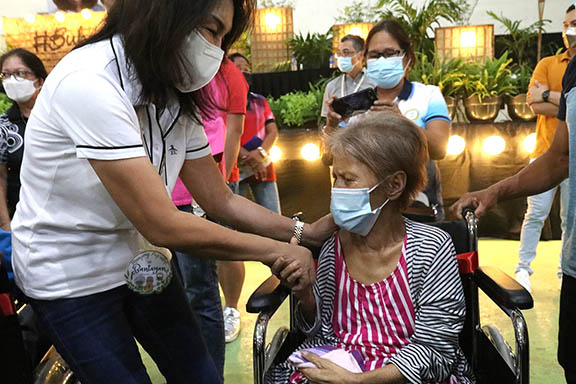 Juana could not contain her emotions as she held on to Governor Gwen Garcia's hand to express her gratitude for getting a new wheelchair from the Cebu Provincial Government. (Junjie Mendoza)
Juana and Cheriben are just some of the residents of Bantayan Island who received assistive devices from the Capitol during the Capitol's Caravan of Provincial Government Services on February 17 and 18, 2021.
Also distributed during the event where vitamins, food packs, and seedlings to senior citizens as well as GSIS Group Accident Insurance policies to frontliners, municipal and barangay officials.
LGU financial assistance
Mayors of Bantayan, Madridejos and Santa Fe towns thanked the governor for the financial assistance they received from the Capitol worth a total of P11 million.
Madridejos Mayor Salvador Dela Fuente said the P3 million they received will be used to improve the Kota Park, one of the town's tourist destination.
"Grabe kaayong kalipay sa akong kasing-kasing nga nadawat namo ang checks intended para sa Madridejos so that we can improve more sa amoang tourist destination which is ang Kota Park," he said.
With the planned development of the park, Dela Fuente is hopeful that it can entice more tourists to visit the historical landmark.
Aside from the financial assistance, the local town officials also expressed their gratitude for including them in the GSIS Group Accident Insurance of the Capitol.
"Maayo kaayo nga plano nga gihimo ni Gov diin ang atoang mga frontliners, atoang BHW, barangay tanods, kapitan, mayor, vice mayor nga secured na sila nga diin naay insurance nga nag back-up nila sa ilahang pagpaningkamot, pagserbisyo para sa mga tawo. Salamat kaayo Gov. Gwen," Dela Fuente said.
Insurance
Madridejos councilor Emie Mates Gabito was elated as town officials are already covered by insurance for the first time.
"Kinasing-kasing gyud ni nga nagpasalamat ni Governor Gwen. Super, kay first time sa history ika-fifth term na nako karon, ika-15th year na nako next year, first time ni nga naay insurance ang mga konsehal. Dako raba, labi nang pandemic rong panahona, dako kaayo nang tabang gyud namo," she said.
Insurance coverage for mayors is P500,000; P400,000 for vice mayors; and P300,000 for councilors.
Meanwhile, insurance coverage for barangay workers have been increased.
From P100,000, the barangay captains are now insured with up to P200,000 and barangay kagawads for P150,000.
Barangay health workers (BHW), nutrition scholars, animal health aides, daycare center workers, tanods, secretaries, and treasurers are covered with P100,000 worth of benefits.
Maria Fe Ofianga, a 46-year-old BHW, expressed her appreciation to the governor for the blessings they received from the provincial government.
"Manghinaut ko nga unta sa umaabot pa nga dili siya magsawa sa pagtabang sa amo. Ilabina kaming mga health workers, mga tanod kay mao nay pinaka-ubos nga sweldo, dili kaya. Mao nang nagpasalamat kami nga naay naabot kanamo nga ayuda gikan ni Gov," she said.
Bantayan Island was the second stop of the Capitol Caravan which started in Camotes Island last week.
Also present in the caravan were 4th District Rep. Janice Salimbangon, 4t District Board Member Kerrie Keane Shimura, 5th District Board Member Andre "Red" Duterte, Department of Interior and Local Government (DILG) Provincial Director Jhoaden Lucero, and town and barangay officials in Bantayan Island. (Mylen Manto)